Children receive routine pediatric vision screenings; however, screening is not the same as a comprehensive eye exam. Seeing a family or pediatrics optician for eye care helps ensure the child's vision is clear and there are no underlying or hidden eye and health issues. The eye doctors at Sites Vision Clinic in Clarksville, TN, help families prepare their kids for back-to-school by offering pediatric eye exams.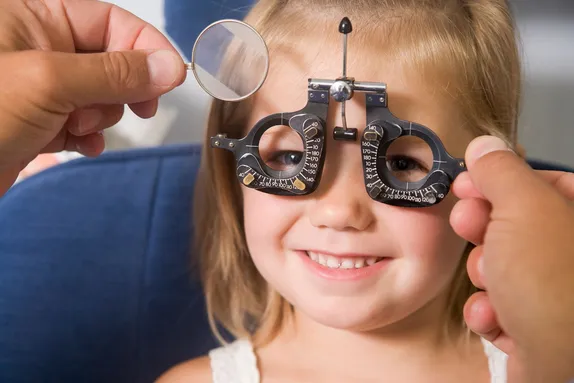 Why Should Your Child Have an Eye Exam?
Routine eye exams help ensure your child is seeing clearly and able to see the board and read books when in school. Additionally, students who regularly visit the eye doctor perform better at sports and extracurricular activities. An eye exam can help diagnose potential eye conditions or general health issues. Routine eye exams often uncover symptoms of high blood pressure, diabetes, and other diseases and conditions.
What to Expect During a Pediatric Eye Exam
When your child sees the family optometrist, you can expect the eye doctor to conduct a comprehensive examination to ensure the overall health of their eyes. Additionally, during the exam, the optometrist will check your child's visual acuity to see if corrective lenses are necessary. Finally, the eye doctor will check for nearsightedness, farsightedness, and astigmatism to see if your child is developing any eye conditions.
Your optometrist may also use various tools to check your child's eye movements, how the pupils react to light, and other tests to check for lazy eye, convergence insufficiency, and color blindness. Speak with your pediatric eye doctor to learn more about the test to expect during your child's routine eye exam.
Benefits of Routine Eye Exams
Pediatric eye exams are vital to your child's success in school, helping them improve their visual acuity at all distances. Additionally, the optometrist ensures both eyes are comfortable and accurately teaming with proper eye movements. Seeing an eye doctor also helps create a baseline for your child, helping the optometrist identify any vision or eye health concerns and providing early diagnosis for health conditions, including diabetes, high blood pressure, and some cancers.
Schedule a Pediatric Eye Exam with Our Optometrist
If it has been a while since your child's last eye exam or it is back-to-school time, call to schedule a pediatric eye exam with your optometrist. The eye doctors at Sites Vision Clinic in Clarksville, TN, are dedicated to helping families with all their eye care needs, including pediatric eye exams. So call our office today to schedule an appointment with our optometrist.